Preface
An animated GIF consumer technology exploration: 16.03.2019 – 22.05.2020
Between March 2019 and May 2020, I made a series of works on my iPhone 5s, using a combination of digital ready-mades – publicly available online graphic elements such as emoji and GIF – and a social media add-on.
At a certain point, I started uploading my own GIFs to the largest GIF sharing platform, GIPHY, giving everyone with a smartphone the possibility to use my work.
The account I used for sharing the animations accumulated over 195 million GIF views in less than 10 months.
---
What are GIF animations and stickers? What is GIPHY? What is an Instagram Story? Why are GIFs used? An overview.
GIF animations & Stickers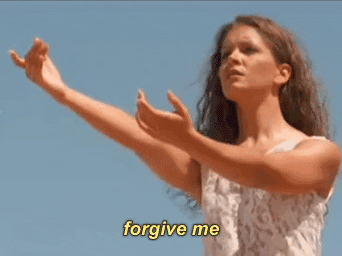 GIF is the abbreviation for Graphic Interface Format, using the extension .gif. An animated GIF is, simply put, a digital file that loads images into a stack, and is able to switch between layers, creating the illusion of movement.
GIFs are amongst the oldest image formats used on the internet. They were never really meant for animation, but were developed to compress and optimize images for dial-up connections were still slow, and data needed to be wrapped as tightly as possible in order to get it from one place to another.
This is why GIFs are limited in colors and frame rates. They usually loop endlessly.
GIFs are often made from video frames, and used for making memes by adding text, thus expressing various emotions. Stickers are GIFs with a transparent background. The heading above is a sticker. In this text, when I'm using the term GIF, stickers are included.
GIPHY
GIFs are hosted on internet platforms, so people can easily share them in messages or emails, and through social media.
The largest GIF and sticker database is GIPHY, which was founded as a search engine in 2013 and quickly became to go-to source for all things .gif.
Everyone can contribute to the platform by uploading GIF, but in order to be found through affiliated apps, one has to apply for an artist or brand account.
Uploaded GIFs are – according to the terms – owned by its uploader/creator, but GIPHY holds the perpetual right to distribute them. GIFs can also be modified.
By far most GIF and sticker contributions are uploaded by volunteers – illustrators, designers, meme-makers, artists – though sometimes GIPHY commissions GIFs. In the case of brand content, we can assume the maker has been paid by the brand.
The Instagram stories feature
GIPHY has partnered up with many applications, but none was as successful as the GIPHY integration in the Instagram Stories feature.
Instagram Stories allow the user to share photos or 15 second videos, that disappear after 24 hours. The user can add GIFs and stickers to these images and videos, thus adding an extra layer. By adding a time-base element static images are thus turned into animated images. The length of a sticker-fueled image is 5 seconds.
Users can search for stickers or GIFs by entering tags or keywords. The results are being displayed as a (rotating) selection related to the keywords.
On Monday, June 8 2020, according to GIPHY, the trending GIF is:
While the Popular on GIPHY sticker selection in Instagram Stories shows:
Why use GIFs?
People use GIFs to add dynamics to still images, or to convey and amplify an emotion. Brands use them for calls of action, involving text based or pictogram animations such as 'Swipe' or 'Tap here' or to stress new products and offers. GIFs can also be used as an online extension of activism, a way for people to show support for a cause, such as the Black Lives Matter fist above.
The view count and use of a GIF indicates the public's involvement with a certain topic, and can therefor be used for commercial purposes. A simplified example: the popularity of the Black Lives Matter GIF exposes a potential market for related merchandise.
---
1.
The internet is made by people (I)
The internet is made by people. This realization lingers in the codes that make up the websites in our browsers, in the collaborative effort of the Wikipedia project, and in virtually any icon, emoji, or button. Even machine learning, which is often mistaken for artificial intelligence, is often based on manual input of data by a low wages workforce. 1
The most visible human face of the internet is found on social media. Facebook has over 3 billion users, including not only Facebook but also its additional apps: Instagram, Messenger, and WhatsApp. 2
Instagram is an image-based social media feed. It has two types of publicizing posts: either permanent – or until the user decides to remove them – in a grid of squares that makes up your account, or via Instagram stories, where posts automatically disappear after 24 hours. 3
Instagram has gained popularity amongst the visual arts precisely because of its emphasis on image. Its art-following audience often has some budget to spare, and art is increasingly sold through social media, leading to the consumer collector. 4
MOMA, NY: 5,1 million followers
Louvre, Paris: 4 million followers
Banksy: 9,3 million followers
Cindy Sherman: 341.000 followers
Saatchi Gallery, London: 1,9 million followers
Gerhard Richter: 59.800 followers
Jerry Salz: 419.000 followers 5
The internet is made by people (II)
Every image, icon, emoji, GIF or sticker was designed by someone. Often these people are completely anonymous.
---
Micro movies and limitless boundaries: the boxed loop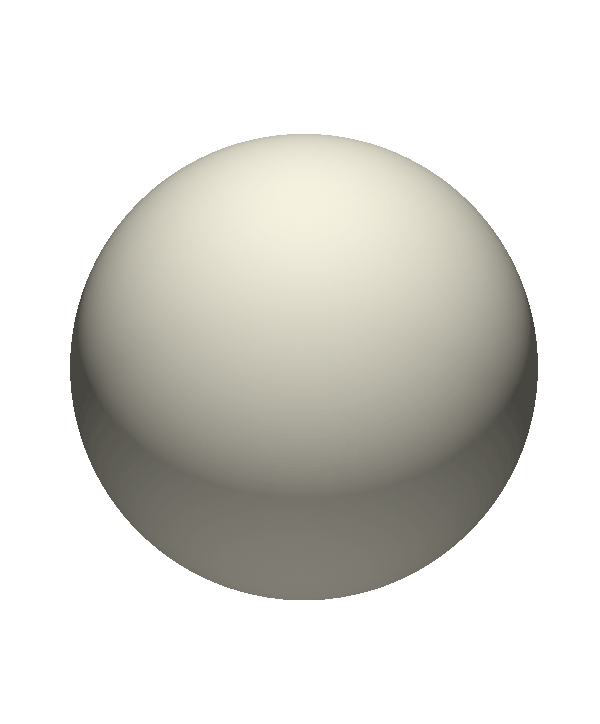 The popularity of GIFs may very well be connected to its limits: they're lightweight, so don't take up much bandwidth, but the format also provides artistic and conceptual freedom within its set boundaries. Translating complex ideas into a GIF can be challenging, but the animations are quick and easy to make.
Since 2005, I've been working with 3d software, using professional programs with serious learning curves. It takes oceans of time to get a grip on even small parts of the medium. In the production of digital animation – including gamedesign -, the visual tasks are split up in specialized teams: texturing, lighting, camera, physics, modeling, rigging, character design, architecture, landscape, and actual animation all have their own departments. It's virtually impossible to be fluent in all of these components. In my work, for instance, the blind spots are rigging (which is providing a model with a virtual skeleton so it can move 'naturally') and complex modeling.
Within my technical limitations, I'm able to work relatively quick: I've never worked longer on a film than a few months, though it may contain scenes and ideas that go back years. Still, the film has to be rendered in high quality to keep all the details and to provide a certain illusion of reality – many of my works still seem to puzzle the viewer because they don't recognize that a work was made digitally, and none of the elements in it physically exist.
Rendering takes hours. And when mistakes are made – which in the early years were many – it has to be done again, and again. After that, there's editing and post-production, such as color grading. And after that come other renders, to all kinds of digital video formats.
This is part of the trade, and, in a way, a sign of craftsmanship.
A GIF, however, can be made in minutes.
---
I use a lot of oval shapes in my work. They are eggs, or mirrors, or portals, or holes.
On my mobile phone, I discovered the hole emoji.
Various devices or operating systems use different designs. Since I'm using an iPhone, I stuck with the Apple version.

Originally meaning pictograph, the word emoji comes from Japanese e (絵, "picture") + moji (文字, "character"). 6

---
In March 2019, I was playing around with the Instagram stories feature. I started by making compositions using the hole emoji, but soon found out I could add small, transparent .gif animations to these images.
This produced ultrashort, 5 second miniature looped videos.
The animations were extremely simple to produce on my phone, by dragging the elements to the desired place on the – quite small – screen.
This was in stark contrast to the elaborate technology of my usual 3D animation practice, that requires a professional desktop computer, specialized software, a mouse, and some serious skills.
What surprised me, though, was the effectiveness of these animations. They seemed a crossover between image and video, between perpetual movement and stillness, and between consumer technology and fine arts.
At the time, I was working on a project that embedded me firmly in 16th century visual culture.
The resemblance between 16th and 17th century alchemist or esoteric emblemata and the animations I assembled with the Instagram Stories feature was striking: isolated elements connected like a rebus. It became a language.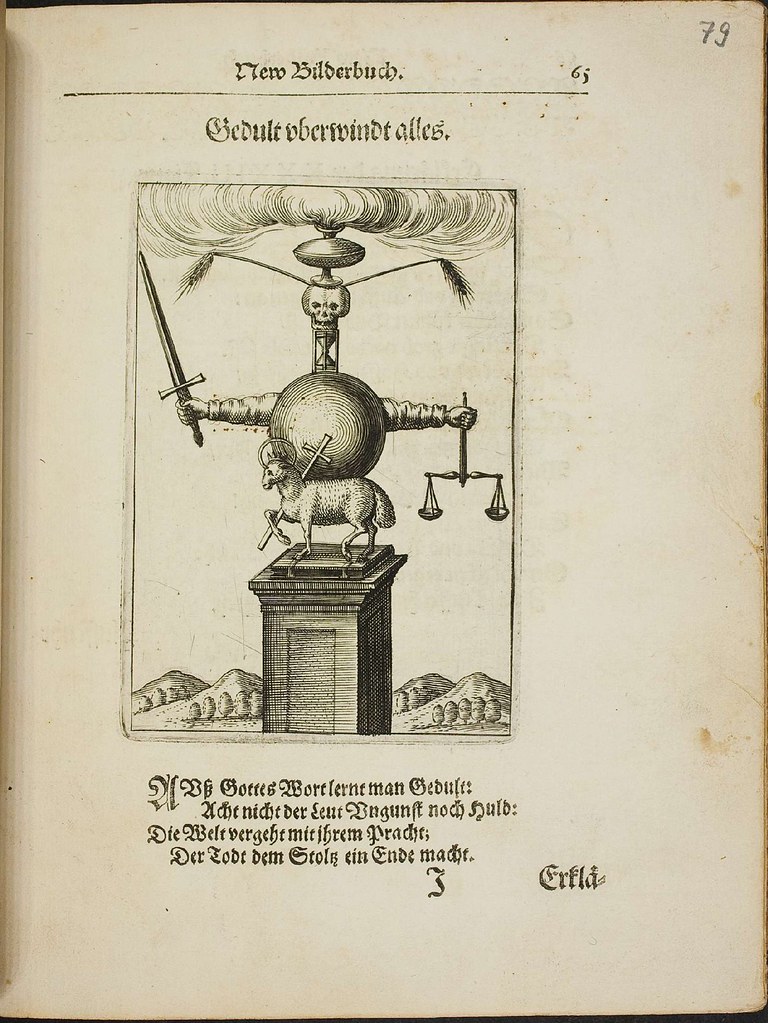 ---
2.
After some time I started to miss elements to improve my miniatures, as I started to call them, in the GIPHY database. I applied for an artist account.
To be accepted for an artist account, you need to have 20 .gifs uploaded, that comply with the platform's rules (no violence, porn, racist, etc. images).
I used models and tests from my previous works and turned them into the sticker format.
My application swiftly got accepted.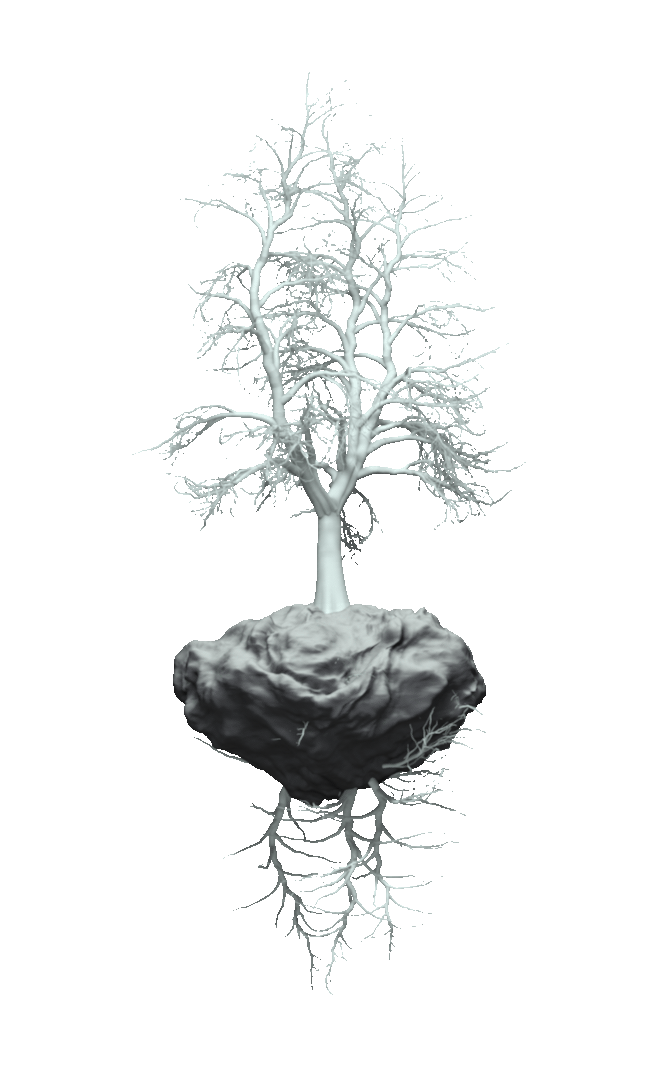 On August 4, I uploaded my first batch of 20 .gifs. One of which was a unicorn, that was part of one of my earliest designs for a woven tapestry I had been working on as part of the 16th century project.
My username was Denkbaar, which means 'Thinkable' in Dutch, and is a recurring reference to the book 'De God Denkbaar, Denkbaar de God' by Dutch author Willem Frederik Hermans.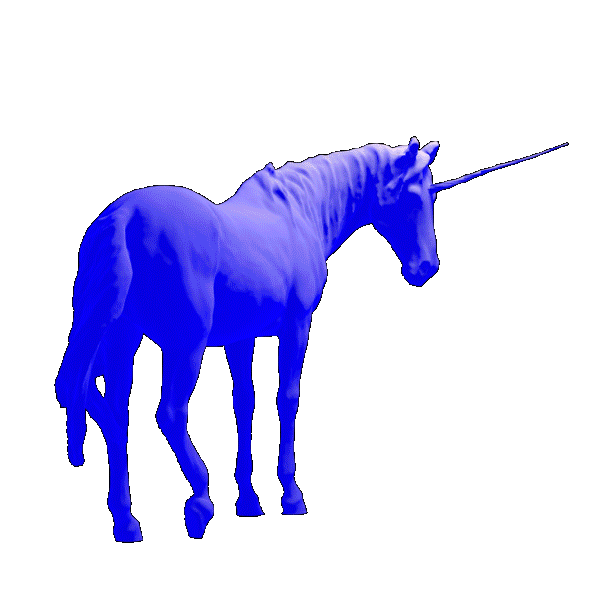 This .gif gathered 31.027.385 views between August 4, 2019 and May 21, 2020.

But what does that mean?
A view is counted every time a GIF has been served through GIPHY's services or technology. A single view is counted when a GIF is served, regardless of how many times it loops. A GIF view on GIPHY is a sign of relevance, share-ability, and popularity.
In total, my contributions on the channel were viewed a whopping 195.1 million times over the course of 10 months.
Oddly, my second most popular .gif was this nondescript hazy shape:
I meant it to be a fuzzy background for other stickers, but on the smartphone screen, it looked more like a simple circle.
The future of GIF
Although GIFs carrying the .gif extension may disappear and be replaced by other formats that have better compressions while maintaining a higher quality image, such as MP4 video or APNG (Animated Portable Network Graphics), the word GIF will probably be synonymous with any type of ultrashort, looped animation.7
---
Further reading
GIF specifications, w3.org, June 15, 1987.
Heads or Tails: The Emergence of a New Cultural Series, from the Phenakisticope to the Cinematograph, Nicolas Dulac and André Gaudreault for Invisible Culture Issue 8:The Loop as a Temporal Form, 2004. Via rochester.edu.
Why Are Micro Movies So Popular These Days? David Pogue for scientificamerican.com, May 1, 2013.
The History of GIFs, Stephanie Buck for mashable.com, October 29, 2012.
The GIF Turns 30: How an Ancient Format Changed the Internet, Klint Finley for wired.com, May 28, 2017.
A Brief History of the GIF, From Early Internet Innovation to Ubiquitous Relic, Lorraine Boissoneault for smithsonianmag.com, June 2, 2017.
The animated history of the GIF, the internet's favorite format, Fernando Alfonso III for dailydot.com, June 15, 2017.